Quality
Our Process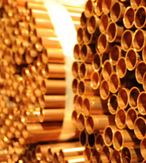 Quality:
Howell Metal's quality system incorporates many elements of nationally recognized quality programs used by industry leaders creating a forward looking quality initiative. Detailed testing is performed in-process and on the final product at appropriate stages in the production process. The most current non-destructive eddy-current testing is performed along the length of each section of tubing we manufacture. Our ACR/Med Gas product is cleaned with state-of-the-art cleaning equipment and laboratory tested by qualified technicians for residue. Through in-depth analysis and auditing of the manufacturing process we continually modify and improve our production methods to provide quality products.
Manufactured from UNS C12200 grade copper (Copper 99.9% minimum, phosphorus de-oxidized), Howell Metal copper tubing products conform to current industry standards using the American Society of Testing and Material (ASTM), Federal Specifications WWT-775B and WWT-799B, National Fire Protection Association standard for Health Care Facilities NFPA99, Compressed Gas Association G-4.1, and NSF-61-G as guidelines and contain no Mercury or asbestos.
Our Process:
Making Copper Plumbing Tube
Copper plumbing tube is one of those products that we practically take for granted, since most of the tube we use is hidden behind walls where it is never seen. This trustworthy, familiar product first came into widespread use in the United States in the 1930's. Copper is durable. If you see a 65 or more year old building with the original plumbing intact, chances are good that the material used was copper.
Despite the fact that copper plumbing tube has worked so well for so long, it was never a "high-tech" miracle material. In fact, copper plumbing tube is essentially made about the same way it always has been. The tube-making process is more complex than one might imagine and has been continually upgraded over the years to keep it energy-efficient and environmentally acceptable and to ensure that the final product meets today's stringent quality standards.